2023. Prices may vary by location and are updated frequently.
Golden Corral's legendary buffet is a great way to spend your Sunday morning with loved ones and friends. This all-American family-friendly restaurant chain has plenty of food selections and it's an all-you-can-eat establishment so you can eat as much as you want and just pay a fixed price.
Golden Corral is without a doubt one of the most loved buffet restaurants in the United States. They have been around for five decades and continues to be a popular option for families and groups who want a sumptuous meal at an affordable price.
A privately owned restaurant chain with headquarters in Raleigh, North Carolina, Golden Corral started as an idea conceptualized by James Maynard and William F. Carl. They were trying to acquire a franchise with other businesses but failed to do so. On January 3, 1973 the very first Golden Corral Family Steak House was opened in Fayetteville, N.C. As of 2022, there are 397 Golden Corral stores in the United States, with around 55 locations in Texas.
Latest Golden Corral dine-in prices:
ITEM
PRICE

Adults

Breakfast

Saturday & Sunday (Open - 11am)
$12.99*

Lunch - Beverage Not Included

Monday - Friday (10:45 - 4pm)
$11.49*
Saturday (After 11am)
$11.49*

Adult Dinner


Beverage Not Included

Monday - Saturday (After 4pm)
$16.99*
Sunday (After 11am)
$16.99*

Children

Breakfast & Lunch - Includes Beverage

3 & Under - Limit 2 Free Meals per Adult Purchase
$0.00
Ages 4-8
$8.99*
Ages 9-12
$9.99*

Dinner - Includes Beverage

3 & Under - Limit 2 Free Meals per Adult Purchase
$0.00
Ages 4-8
$10.49
Ages 9-12
$11.49

To Go

By The Pound (Weight & Pay)

Breakfast
$8.99/lb
Lunch (Monday - Friday)
$6.99/lb
Dinner (Monday - Friday & all day)
$8.99/lb
Dinner (Saturday & Sunday)
$8.99/lb

Seniors (60 & Over)

Breakfast

Saturday & Sunday (Open - 11am)
$12.49*

Lunch - Beverage Not Included

Monday - Friday (10:45 - 4pm)
$10.99*
Saturday (After 11am)
$10.99*

Senior Dinner

Beverage Not Included

Monday - Saturday (After 4pm)
$15.99*
Sunday (After 11am)
$15.99*

Senior Earlybird Specials

Includes Beverage

Monday - Friday (11am - 3pm)
$9.99*
Disclaimer: Prices shown above have been sourced from Golden Corral located at 3270 Satellite Blvd, Duluth, GA 30096. They may not cover recent price changes. Contact the restaurant closest to your location to get the latest prices and updates.
Latest Golden Corral take-out online prices:
Item
Price

Individual Meals

12 oz. Sirloin Steak
$13.85
Holiday Sliced Ham Meal
$9.97
10 oz. Sirloin Steak
$12.89
Holiday Sliced Turkey Meal
$10.13
Fried Chicken
$9.58
Pot Roast
$11.05
Meatloaf
$10.58
Bourbon Street Chicken
$9.76
5 oz. Sirloin Steak
$11.05
Fried Fish
$9.43
8 oz. Sirloin Steak
$10.68

Signature Salads

Chicken Caesar
$9.02
Cobb Salad
$9.07
Chicken Caesar Salad
$9.06
Garden Salad
$8.99
Spinach Salad
$9.02
Salad Topper - Bacon
$0.99
Salad Topper - Chicken
$0.99
Salad Topper - Ham
$0.99

Catering

Carved Ham
$8.32
Tuna Salad
$31.48
Seafood Salad
$30.98
Mashed Potatoes
$24.88
Seasoned Pinto Beans
$15.08
Black Eyed Peas
$18.36
Red Bliss Potatoes
$17.51

Kids Meals

Chicken Tenders
$5.09
Grilled Cheese
$5.11

Salad

House Salad
$12.85

Family Meals

Build the perfect family meal. Choose from beef, chicken, pork, and seafood entrées, as well as a wide array of sides. Golden Corral's famous yeast rolls are included with every order. Serves 4 to 6 people.

Sirloin Steak
$10.17
Smoked Pulled Pork
$10.26
Baked Fish
$9.39
Mashed Potatoes and Gravy
$4.95
Macaroni and Cheese
$5.18
Baked Chicken
$9.31
White Rice
$4.76
Smoked Chicken
$9.07
Green Beans
$4.86
Baked Beans
$4.95
Fried Chicken Combo
$9.18
Steamed Broccoli
$4.94
Coleslaw
$4.78
Buttered Corn
$4.82
Steamed Carrots
$4.73

Popular Items

Fried Chicken Meal
$9.18
Bourbon Street Chicken Meal
$8.48

Famous Fried Chicken

6 Piece Fun Box
$10.33
8 Piece Whole Bird Box
$14.26
12 Piece Family Box
$19.50
20 Piece Crowd Pleaser
$28.96

Large Party

Baked Beans - Pan
$18.33
Baked Ham - Priced By the lb
$7.77
Fried Chicken - By the Piece
$9.88
Fried Chicken - priced by the Piece
$16.93
Baked Ham - priced by the pound
$7.79
Baked Potatoes with Toppings - Each
$2.02
Black Eyed Peas - Pan
$18.18
Bourbon Street Chicken - Pan
$33.40
Pot Roast - Pan
$37.87
Buttered Corn - Pan
$15.58
Cabbage
$15.42
Gravy
$4.20
Carrots - Pan
$15.51
Green Beans - Pan
$15.53
Mac & Cheese - Pan
$25.26
Mashed Potatoes - Pan
$25.13
Pinto Beans - Pan
$18.16
Pot Roast - 2 Roasts
$38.93
Red Bliss Potatoes - Pan
$18.30
Smoked Pulled Pork - priced by the pound
$10.18
Smoked/Rotisserie Chicken
$11.24
Steamed Broccoli - Pan
$15.53
Sweet Potato Casserole - Pan
$25.05

Salads - Large Party Pick Up

House Salad - Pan
$19.10
Potato Salad - Pan
$20.27
Seafood Salad - Pan
$35.41
Tuna Salad - Pan
$30.42

Pizza

12-inch pizzas with hand-tossed dough and our special tomato sauce.

12" Cheese Pizza
$6.18
Pepperoni Pizza
$7.24
Cheese Pizza
$6.23
12" Pepperoni Pizza
$7.11

Large Party Platters

Sides
$2.03
Smoked Chicken Platter
$23.83
Meatloaf Platter
$21.63
Baked Ham Platter
$7.75
BBQ Pulled Pork Platter
$9.89
Bourbon Street Chicken Platter
$33.39
Pot Roast Platter
$38.12
House Salad Platter
$19.16
Potato Salad Platter
$20.08
Seafood Salad Platter
$35.16
Tuna Salad Platter
$29.99
Party Baked Potatoes
$1.99
Party Black Eyed Peas
$18.19
Party Buttered Corn
$15.35
Party Gravy
$4.03
Party Green Beans
$15.35
Party Macaroni & Cheese
$25.07
Party Mashed Potatoes
$24.97
Party Pinto Beans
$18.17
Party Red Bliss Potaotes
$18.17
Party Steamed Broccoli
$15.35
Party Steamed Cabbage
$15.36
Party Steamed Carrots
$15.35
Party Yeast Rolls
$3.14

Hot Sides

Yeast Rolls
$2.91
Baked Potato
$2.35

Beverages

Gold Peak Iced Tea
$3.23
Gold Peak® Unsweet Tea
$4.07
Single Serve
$3.03
Gold Peak® Sweet Tea
$3.85
Minute Maid® Lemonade
$4.62
Bottled Water
$2.17
Barq's Root Beer
$2.94
32 Oz Drink
$2.99
Cola Cola
$2.89
Dr. Pepper
$2.89
Diet Coke
$2.89
Fanta Orange
$2.89
Sprite
$2.89

Sides

Cold Sides
$4.27
Hot Sides
$2.82
Salads
$3.62
Steamed Cabbage
$5.85
Potato salad
$10.09
Sweet Potato Casserole
$8.46

Desserts

Offered by the slice, half (serves 4-6) or whole cake/pie (serves 6-10).

Cheese Cake
$1.64
Cheesecake
$2.53
Carrot Cake
$2.42
Chocolate Cake
$2.37
Cheescake
$1.62
Pumpkin Pie
$3.12
Apple Pie
$1.90
Blueberry Pie
$1.80
Cherry Pie
$1.51
Cookies
$3.07
Dozen Chocolate Chip Cookies
$3.00
Disclaimer: PriceListo gathers actual pricing information from sources such as on-site visits, business websites, and phone interviews. The prices reported on this webpage derive from one or more of those sources. Naturally, the prices reported on this website may not be current, and may not apply to all locations of a given business brand. To obtain current pricing, contact the individual business location of interest to you.
Golden Corral prices provided by
PriceListo
.
How Golden Corral Evolved Through the Years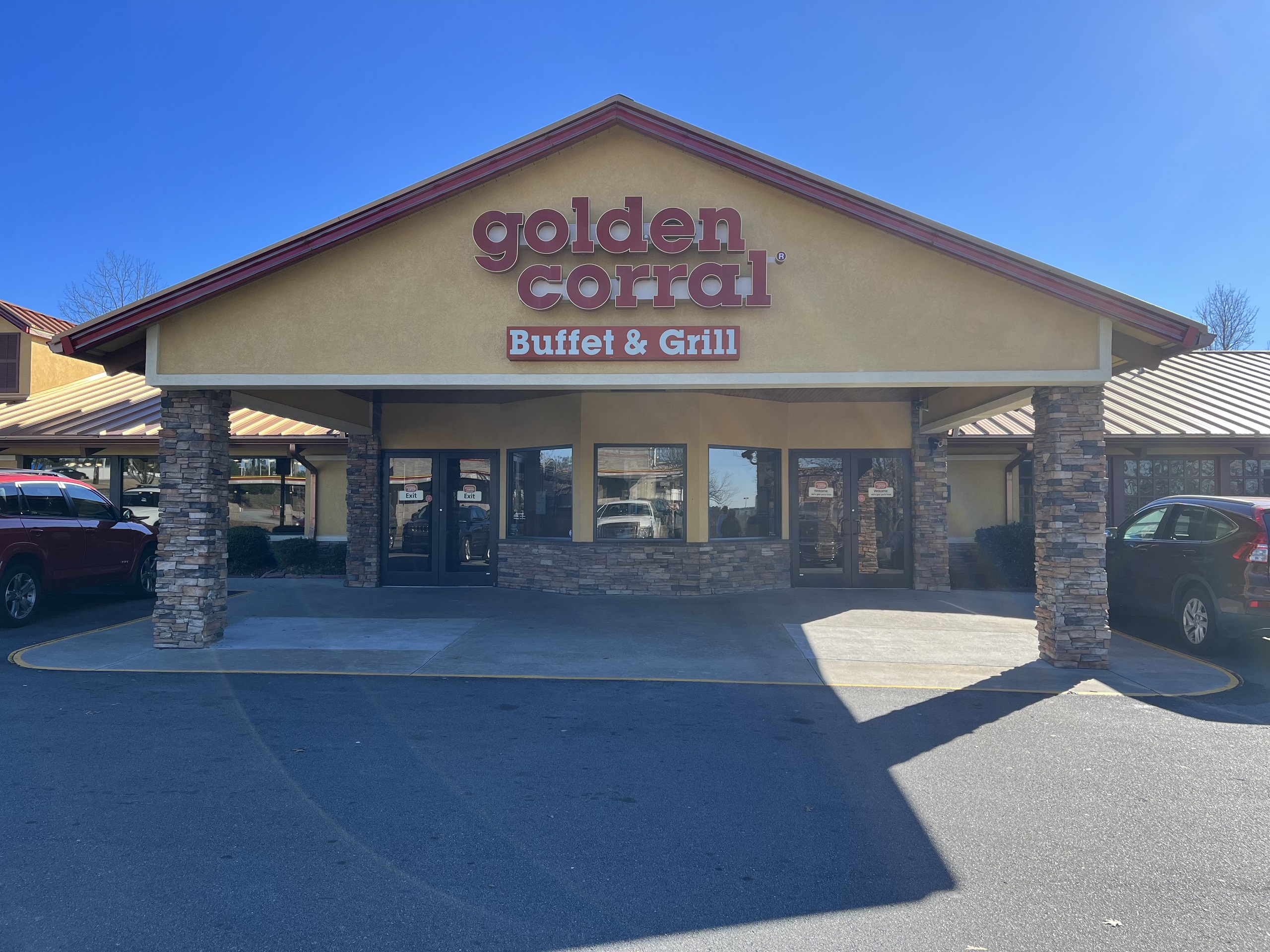 In the early 1990s, they opened the "Metro Market" concept restaurants in Texas, North Carolina, Oklahoma and New Mexico. These new restaurants could seat between 400-450 diners and had an area of 10,000 square feet (at least doubled the size of their old restaurants). They added the Brass Bell Bakery showcasing freshly made bread, pastries and rolls.
By 2001, Golden Corral reported an annual sales of more than $1 billion. In the mid-2000s the company once again changed the concept of their restaurant to what they called "Strata" which allows diners to view how the food is prepared. Guests serve themselves in all Golden Corral locations however there were items that are made-to-order such as omelets, Belgian waffles and steaks.
In 2018, they made another update to their restaurant design known as "Gateway." The renovated locations had a more contemporary appearance, new food service bars as well as modern kitchen areas. Some Golden Corral locations also have take out services as they partner with DoorDash, Uber Eats and GrubHub. "GC on the go" also allows customers to pack any food they like and then pay for it based on the weight of the food.
Golden Corral During the Covid-19 Pandemic
Just like most restaurants in the country (and around the world) when the Covid-19 pandemic hit in the early part of 2020, Golden Corral had to close down. Some of the stores were re-opened and provided family-style and cafeteria-style dining.
This huge buffet chain reopened its locations gradually across the country. The cafeteria-style strategy worked very well for them, as they made sure all health safety protocols were followed. The family-style table-service model were also employed in some of its locations.
Even during the latter part of the pandemic, federal guidelines indicate that self-service options were still not allowed, and most states complied with those guidelines. To ensure they followed these guidelines, Golden Corral had to temporarily stop operating salad bars and self-service beverage stations. At first, the changes were more challenging as buffet concepts are generally self-service. As a result, some stores like Souplantation and Sweet Tomatoes had to permanently close.
Golden Corral took a more aggressive route by changing its business concept to cafeteria-style service. As the biggest buffet restaurant chain in the country, Golden Corral remained steadfast and continues to grow (albeit slowly) even as its competitors struggled.
In the cafeteria-style model, they set up stanchions with food displays as staff served customers the food they want. In the family-style model, group diners were assigned tables where they were brought "endless buffet" options.
Many of its locations also offered takeout-only services.
Across 2020 and 2021, the chain closed 124 of its stores. Fortunately, many of the existing franchisees are reinvesting. Golden Corral's Gateway redesign are seeing up to 100% sales increases compared to 2019. A few months ago they reopened their stores in Ashland, Kentucky, Greenwood and Indiana which are reportedly averaging $130,000–$160,000 in weekly sales.
How much is Golden Corral?
"Expensive" isn't a word you tend to associate with Golden Corral. After all, the highest price you'd pay is when you're enjoying a weekend dinner, and that will only cost you approximately $16.99 per person for the food. The beverages aren't included.
Golden Corral Continues to Grow
Lance Trenary, the CEO of Golden Corral, was recently awarded the 2022 Gold Plate Award by the International Foodservice Manufacturers Association and he couldn't be prouder. He says the award wasn't about what he did on his own but rather, it was a representation of Golden Corral highs and lows over the last 2 years and showcased the strength and resilience of the team members, staff and franchisees, as well as the loyalty of their patrons.
In February last year, the company made it to Forbes' list of America's Best Large Employers. This comes as no surprise as Golden Corral offers child care and transportation assistance to its workers. They also provide competitive wages.
The stores are seeing weekly sales of as much as $85,000 per store, 30% more than what they earned each week in 2021 and even 3-5% higher than 2019.
Trenary believes that the chain's successful comeback can be attributed to its strong value proposition. Golden Corral prices remain below the average in the industry but the quality of the food, the array of options available plus the good service ensures each person that goes there gets the best value for their money.
The brand has made sure the quality remains the same and has not cut back its offerings. Many of their dishes are made from scratch. They still make and mix their own meat loaf, cut the steaks, breads the chicken, grinds the meat and cooks their pot roast for 12 hours.
The chain also remains true to their tagline, "only one for everyone" which means diners can get whatever food they like and pay only one fixed price.
Golden Corral New Designs
Golden Corral has prepared an incentive to prospective franchisees. G.C. Grill House, a steakhouse, will open in July and will highlight the family steakhouse that Golden Corral once was when it first opened in 1973. It will also feature popular buffet items like pot roast, fried chicken and meatloaf. Additionally, another prototype is in the works – a fast casual establishment with a drive-thru feature which gives a modern twist on food we've grown to love such as a pot roast sandwich and hot fried chicken.
Golden Corral Typical Customer Profile
Golden Corral has very loyal fans and is well-loved for its extensive buffet options. According to analytics company Numerator, the typical Golden Corral customer is a retiree over 65 years old who enjoys eating out. They usually live in suburban or rural areas in Arkansas, Texas, Louisiana, Georgia, Florida, Maryland, North and South Carolinas, Washington DC, Virginia and West Virginia. The household often makes less than $80K a year. The data points similarities with average customer profile for Texas Roadhouse.
On average, a Golden Corral customer spends $28.42 at the restaurant and visits an average of 5 times a year. Their top choices are usually steaks, fruit juices, and teas. The busiest day at Golden Corral is Sunday followed by Wednesday.
Golden Corral Bestsellers
The Golden Corral menu is extensive and there's always something for everyone. When you're very hungry and want to eat comfort foods but you don't want to spend an arm and leg, Golden Corral is exactly what you need.
One might be inclined to think that buffets are no longer popular today but if you've ever been to Golden Corral in the past year you'll know nothing can be further from the truth. Every day, hundreds of people flock to their stores where you're treated with hefty servings of meat, fresh salads, yummy sides, delicious desserts and drinks. Whatever comfort food you can visualize in your head – they have it! Whether it's build your own burgers, crispy fried chicken or mouth-watering desserts, you're sure to find it here.
Golden Corral offers a great selection but here are the ones we highly recommend you try first:
1. Fried Chicken
They call it Aunt B's friend chicken and it's crispy and crunchy, with a beautiful golden color on the breading. Make sure you eat it as soon as they are put out so that you can get hot and juicy.
2. Signature Sirloin Steak
Golden Corral knows all about steak temperatures and this sirloin steak is surprisingly good. It's well-seasoned and tender. It's more than what you'd expect from a buffet steak.
3. Carrot Cake
The carrot cake at Golden Corral is just heavenly. It's light and moist, with just the right amount of shredded carrots and spices. The frosting is not overly sweet. In fact, it's the perfect balance of sharpness from the cream cheese and the sweetness of the sugar frosting.
4. Build Your Own Burger
Nothing to write home about but these burgers are pretty good actually. You get to choose from an array of toppings like sauces, onions and leafy greens. You can also make a request on your preferred temperature for the patty, otherwise it will be cooked well-done. What really stands out is the fries – they're crispy, crunchy and salty.
5. Fried Fish
The Golden Corral fish can hold its own when it comes to fried food and the fried fish is no exception. The breading has similar seasoning and flavor to the fried chicken. Just make sure you get the fresh batch.
6. Butterfly Shrimp
The tasty, well-seasoned shrimp are plump, juicy and one serving is simply not enough. It has the perfect golden crust and it has a bit of sweetness as well.
7. Mashed Potatoes
When it comes to mashed potatoes, very few can compare to Golden Corral. It's soft and creamy, with just the right amount of salty and garlicky flavor. Any loyal patron of this restaurant will tell you to get the mashed potatoes and be sure to add gravy and some butter!
8. Salad Bar
The Golden Corral salad bar features plenty of vegetables, leafy greens, cold cuts, fruits, cheeses, and some bread.
9. Pulled BBQ Chicken and Pork
These two buffet items are a must try at Golden Corral. The pulled BBQ chicken in particular is juicy and tender, and has a hint of smokey flavor. The sauce is tangy and sweet, which I personally enjoy.
Why You Should Dine at Golden Corral
If you've never visited a Golden Corral restaurant before, it's about time you do. I guarantee it won't be your last. It's the place for people who want to get more bang for every dollar. You get treated to classic mains and sides, along with delicious desserts and healthy salads. The food quality is more than what you'd expect from a regular buffet. If you're hungry and you want comfort foods, this is the place for you.
1. The buffet is absolutely cheap!
This one's a no-brainer. The Golden Corral lunch prices go for as low as $11.49 (without drinks) and you are treated to a wide array of food choices. If you're hungry and you don't want to pay a big amount of money for a big meal, this is the place to go.
2. They love kids.
In fact, if you bring your kids for the lunch buffet, you only pay $8.99 per child (age 4-8). Kids 3 and below eat for free!
3. They love veterans.
In the last 6 years, Golden Corral has raised more than $9 million to send close to 18,000 military kids to Camp Corral where they take care of children of ill, fallen or injured servicemen. They have also given more than 5 million free meals to veterans and active duty military.
4. They have a breakfast buffet on weekends.
Nothing can be more enjoyable than a late (but sumptuous) breakfast on Sunday morning surrounded by family or friends. You can feast on cooked to order omelet, bacon, sausage, freshly made bread, waffles, pancakes and fruits for just $12.99.
5. They make steaks right.
They cut the steaks inhouse plus they know how to make the meats juicy and well-seasoned. You don't really expect something like this from something so affordable, right?
6. They have an impressive salad bar.
The signature salad bar at Golden Corral gives you tons of options to make the healthiest and yummiest salads.
The recently added Smokehouse menu has baby back ribs, brisket, chicken and turkey smoked with hickory. They cook and smoke the meats on site and you can choose your own sauces.
Golden Corral Breakfast Buffet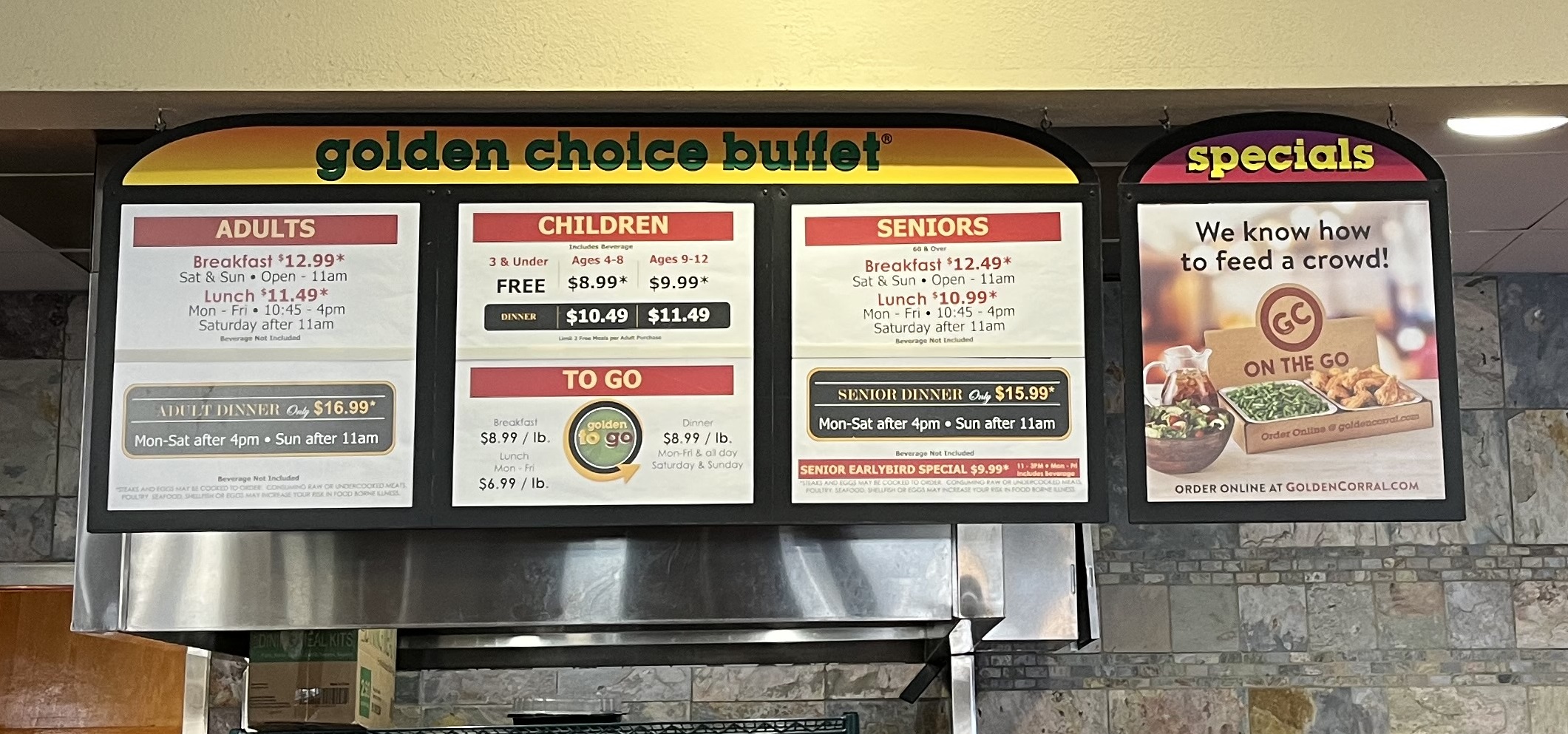 Most people in America are familiar with Golden Corral. It is, after all, the country's number #1 buffet chain known for its smoked pulled pork and pot roast. But what some people don't know is that they also have breakfast buffet. Yes, you can get your favorite waffles, scrambled eggs, bacon and sirloin steak on a lazy Sunday morning.
Golden Corral breakfast hours are typically between 7:30 am and 11:00 AM. The brand's legendary endless breakfast buffet also features other items like made-to-order omelet, fluffy pancakes, ham and glazed buns.
The breakfast buffet price starts at $12.99 and this already comes with coffee and juice. You'll find 6 different categories:
 Omelet Station: You can choose the kind of omelet you want with ingredients like diced ham, bacon bits, scrambled sausages, onions, mushrooms, cheese and others.
Cold Breakfast Selection: This includes cold meats, assorted cereals, yogurt, fruits, various juices, butter, jelly and whipped cream.
Hot Breakfast Favorites: Here you can choose from sausage patties, scrambled eggs, corned beef hash, waffles, pancakes, toasts, muffins and others.
Bakery Goods: Aside from freshly made breads, you'll also find pastries, chocolate fudge, bread pudding and others.
Ice Cream Bar: Golden Corral offers vanilla and chocolate ice cream along with fruit toppings, nuts etc.
 Chocolate Wonderfall: Here you'll find the chocolate Wonderfall fountain, fruits and mallows.
Most locations stop offering buffet breakfast around 11AM but this may vary. Take note as well that some of their restaurants serve breakfast starting at 8AM.
Golden Corral Lunch Buffet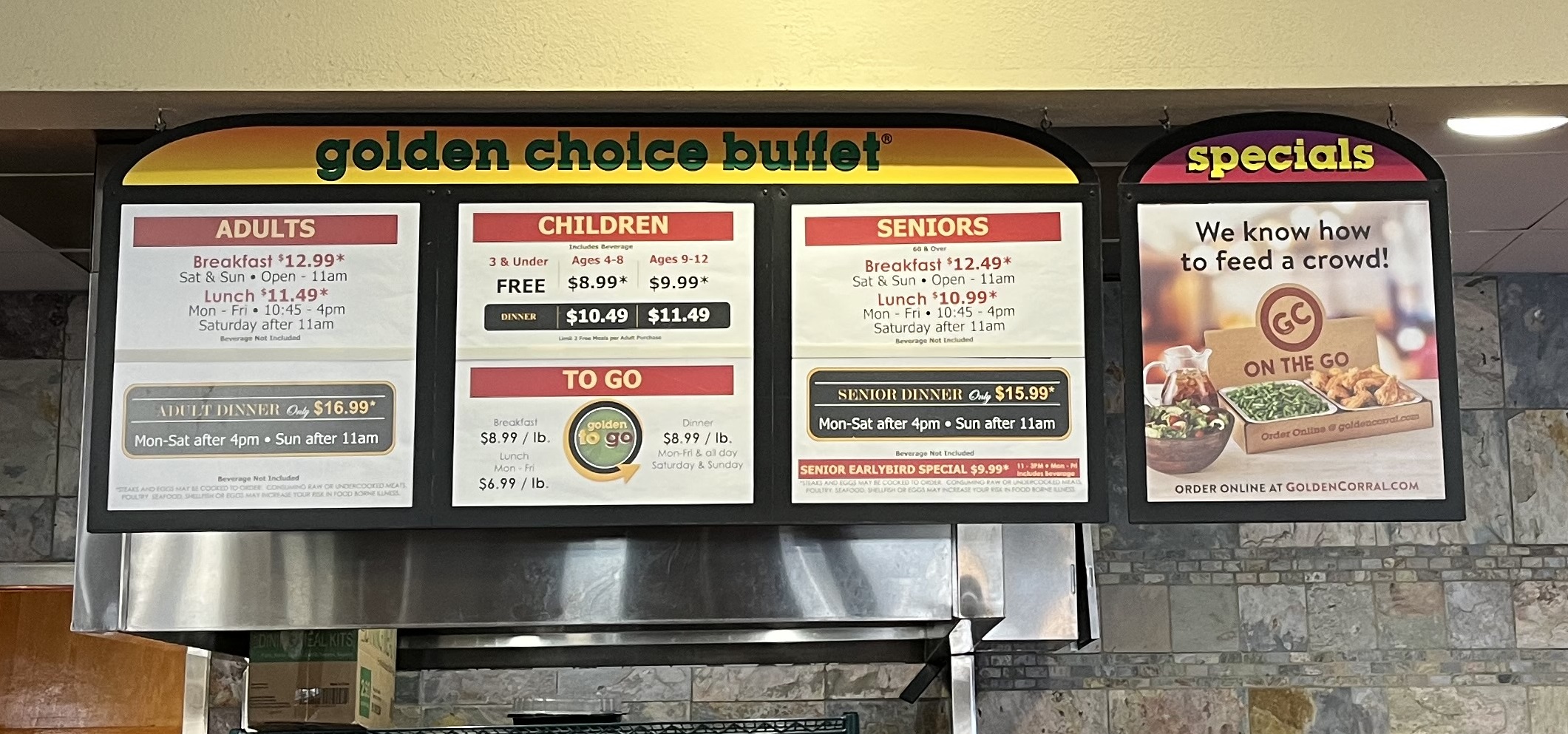 The Golden Corral serves lunch Mondays through Saturdays (no Sunday) from 11AM to 2PM. Please take note that these lunch buffet hours may not apply to all their restaurants and we've been told some locations serve lunch from 10AM to 4PM. Hours for Golden Corral may vary however depending on the location.
With over 60 dishes to choose from, check out their lunch buffet choices below which are divided into 4 categories:
Hot Lunch Favorites – This section includes meat entrees, pizza, fried chicken, Burger Bar, fried fish, meatloaf, pot pie, baked fish, chicken & noodle dumplings, as well as Bourbon street chicken.
Hot Lunch Sides – They have an array of sides including mashed potatoes & gravy, Asian rice, Mexican rice, carrots, green beans, broccoli, corn, cabbage, beans, tamales, macaroni and cheese, several soups, potato bar with toppings, fried ravioli and our all time favorite yeast rolls with honey butter.
Salad Bar + Dressings – Golden Corral provides various dressings for your salad. You can also add from the numerous selections of cheeses, cold cuts, seafood, veggies, and fruits.
Desserts – Some of their best desserts are carrot cake, ice cream, cookies, cupcakes, macaroons, hot fudge, pumpkin pie, bread pudding, fudge brownies and a whole lot more.
Golden Corral Dinner Buffet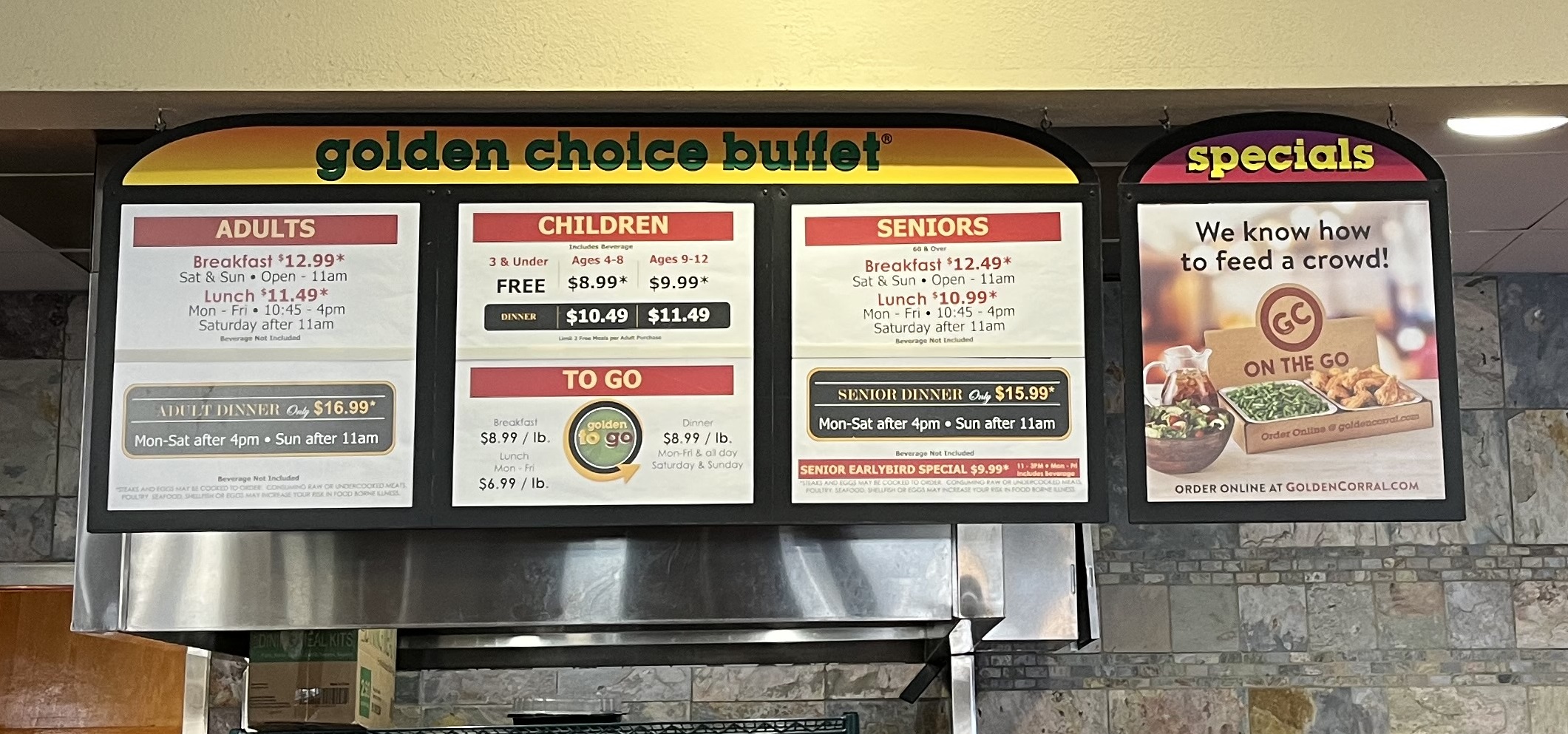 The dinner buffet at Golden Corral is available from 4PM – 10PM Mondays through Thursdays, as well as Sundays. On weekends (Fridays and Saturdays) it starts from 4PM until 10:30PM.
Enjoy perfectly cooked to order dinner and choose from any (or all) of these selections:
Fried chicken
Carving station
Fried fish
Baked fish or grilled fish
Golden delicious shrimp
Pizzas
Prime Rib
Chicken and noodle dumplings
Featured pork entrée
Pot roast
Signature sirloin steak
Smoked sirloin
Bourbon street chicken
Mashed potatoes & gravy
Mexican rice
Sweet corn pudding
Refried beans
Yeast rolls with honey butter
Macaroni and cheese
Scalloped potatoes
Homestyle stuffing
Sweet corn pudding
Italian pasta bake
Fried ravioli
Cinnamon apples
Rice
Soup
Baked potato bar with toppings
Seafood salad
Fresh veggies salad
Fresh fruit
Meat
Cheeses
Crackers
Chocolate Fountain
Carrot Cake
Cotton Candy
And so much more!
Low Calorie Food Items at Golden Corral
If you are conscious about the amount of calories you consume don't worry, Golden Corral gives you a comprehensive nutritional breakdown of their food selections on their website. Among the low-calorie food items they offer are:
Seafood – The breaded flounder fish only has 120 calories per serving, while the shrimp fajitas has 70 calories and the fried breaded fish has 90 calories.
Salads – Salads are great for those who want to limit their calorie consumption. The restaurant has plenty of salad choices that are around 40 calories per serving.
Salisbury Steak – The standard beef steak has 70 calories per serving. They also have other low calorie selections like BBQ beef, Asian Beef, Taco Beef and Roast Carved Beef.
Pork – The smoked pit ham only as 110 calories while the pork sausage patty has 80 calories, and the BBQ boneless pork ribs contains 120 calories.
Beverages – If you're watching your calories, it's best to stick to sugar-free tea or water.
Desserts – Desserts are rarely low-calorie but you can get desserts for under 400 calories such as the sugar-free pistachio cake.
Golden Corral Rewards Program
You can sign up for the Golden Corral Rewards Program and earn points every time you eat at the restaurant or order through the Golden Corral App. You'll need to upload or scan the receipt to earn points. You also earn points every time you refer family and friends.
To redeem your points, you can do so at any Golden Corral physical location or online. If redeeming in-store, you need to click the "Redeem" button on the app and then indicate how much you want to redeem then show your code to the cashier.
Another perk of signing up for the rewards program is that you get treated a free buffet (unlimited) and indulge in all the good food that this restaurant is known for. Simply bring a full-paying adult at any participating restaurant and show the cashier your birthday gift voucher. This gift is valid for one week.
For more information about Golden Corral, visit their official website.
Golden Corral Frequently Asked Questions
If you're planning to dine at Golden Corral whether as a treat to yourself after a tough week in the office, or you want to treat family and friends for your birthday, you may have some questions especially if you've never dined at this restaurant before. To help you, we've answered some of the commonly asked questions about Golden Corral.
What is the Golden Corral Senior Discount?
If you or a loved one is 55 years old or above, they can take advantage of the Golden Corral prices for seniors. You get 10% off any full order, Mondays to Sundays, if you are at least 60 years old. What that basically means is that you can enjoy a big buffet lunch for $10.99, or a very delicious dinner for $15.99.
Is Golden Corral Still Open?
During the start of the pandemic, Golden Corral restaurants temporarily closed, just like most restaurants around the world in order to prevent the spread of the coronavirus. At the later part of 2020, some of its restaurants re-opened. By 2022, most of its restaurants have opened to the public and while some locations are permanently closed, they are slowly opening more locations and getting more franchisees to cater to all its loyal customers.
What are the Golden Corral Prices for Seniors?
As of 2023, here's what you can expect from Golden Corral if you are at least 60 years old: • Some locations offer $1 off the price of regular adult buffet entrees to seniors. • Senior Early Bird discounts provide $1 off buffet entrees plus a free drink if you go there between 2-4PM Mondays through Thursdays. • Seniors get 10% off any full order Mondays through Sundays. • If you're a Good as Gold member, check your email for a birthday coupon which entitles you to a free buffet (if you dine with one paying adult).
Is Golden Corral Open on Christmas Day?
With all the shopping, gift wrapping and holiday gatherings you have to attend, the Christmas season can indeed be very stressful. The last thing you want to do is prepare a nice dinner for the whole family. This explains why people would rather eat in a restaurant on such occasions. However, please take note that restaurants may operate during Christmas and other special holidays with reduced hours. For example, some restaurants may open late and close early. It's best to call the restaurant ahead of time so you can check what time they will be open for Christmas. Among the go-to restaurants on Christmas is the Golden Corral. Their Endless Buffet concept ensures you that there is something for everyone no matter their age or preferences. Yes even if you have a picky eater in your group, they won't leave the restaurant hungry. An important thing to remember however is that we can't tell with 100% accuracy that all Golden Corral restaurants are open on Christmas Day. Most locations are open, but some are closed and their hours of operation for holidays vary by location as well. Your best recourse is to check your local Golden Corral or visit their website to find out. Another great way to celebrate Christmas with your family is to stay home and order their food to go. Golden Corral offers Holiday Meal To-Go, a feast for a group of 6 or 8 and this set already comes with beef roast or ham or turkey, together with stuffing, mashed potatoes, yeast rolls, pie and cranberry sauce.
How Much Does Golden Corral Cost Per Person?
Golden Corral prices for adults vary depending on what time you go and when. Typically, prices are higher for dinner compared to lunch. It's also more expensive to go there on a weekend than on a weekday. A dinner buffet, for example, costs around $16.99 while Golden Corral lunch prices start at $11.49. There are also other factors that affect the price such as specials and location. Some locations offer discounts for certain groups, and then there are also those that charge a premium for holidays.
What is the Biggest Golden Corral in the World?
Branson's Golden Corral Buffet is the world's largest and it can seat more than 650 diners. They're open 363 days per year. Just like all Golden Corral restaurants, Branson's is a family friendly restaurant offering all-you-can-eat buffet with over 80 dishes to choose from.
How to Order Golden Corral Online?
If you want to order from the Golden Corral menu online, simply visit the official website, choose your preferred store location and select from their menu. They have menu items that are perfect for groups including beef, seafood, pork, chicken, sides, salads, desserts and drinks. They also offer catering services if you're planning to host a party. The Golden Corral app also lets you place your order directly and you can choose to pick it up at curbside. You may also order using services like UberEats, DoorDash and Grubhub.
Golden Corral has a Kid's Buffet with selections perfectly designed for the palate of children. The prices are also very affordable. For kids age 4 to 8, the Golden Corral breakfast and lunch buffet price is $8.99, while the dinner buffet price is $10.49. For kids age 9 to 12, the breakfast and lunch buffet is $9.99 and the dinner buffet is $11.49.
Is Golden Corral Healthy?
There are many selections at this family-style buffet that one can consider healthy. In fact, their salad bar has plenty of nutritious and low calorie options. But this is a buffet after all and the key is portion control. No matter what dishes you choose, you should keep the amount to as little as possible. You may also want to skip the desserts and fried dishes although we have to tell you, they make some of the best fried chicken we've ever tasted!
Do You Tip at Golden Corral?
It's normal (and customary) to tip at Golden Corral and the standard for all-you-can-eat-restaurants is 10% of the bill. While the servers don't serve food they will provide assistance and will bring drinks and clear your table. At Golden Corral you need to pay at the cashier before you eat, so perhaps it's prudent to decide whether to provide a tip upon paying or you can also leave some cash on the table before you leave. Your server will definitely appreciate your generosity.
Is There a Golden Corral Near Me?
The best way to find out is to visit the official website of the restaurant or its app, enter your location and then you will be given a list of Golden Corral restaurants near you as well as driving directions.
Golden Corral Promo 2023